A little about me...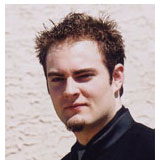 I was born and raised in central Alberta, Canada. I began piano lessons at age four, and graduated from the Royal Conservatory of Music, with honors, at age thirteen. (including two years of music theory) I played in a few rock bands throughout high school (but who hasn't), and around age seventeen began seriously writing, and composing my own work. Now at age twenty-nine, I have managed to build up a respectable audio space in which I currently compose and design music and sfx for video games and indie films, record and produce for other artists, and meticulously contrive ways of destroying the rain forests.
Projects:
2004-2012: Music and sound for Black Mesa.
2012-: I am currently working on the music and sound for Xen.